The weakness of car dealers lies in their online presence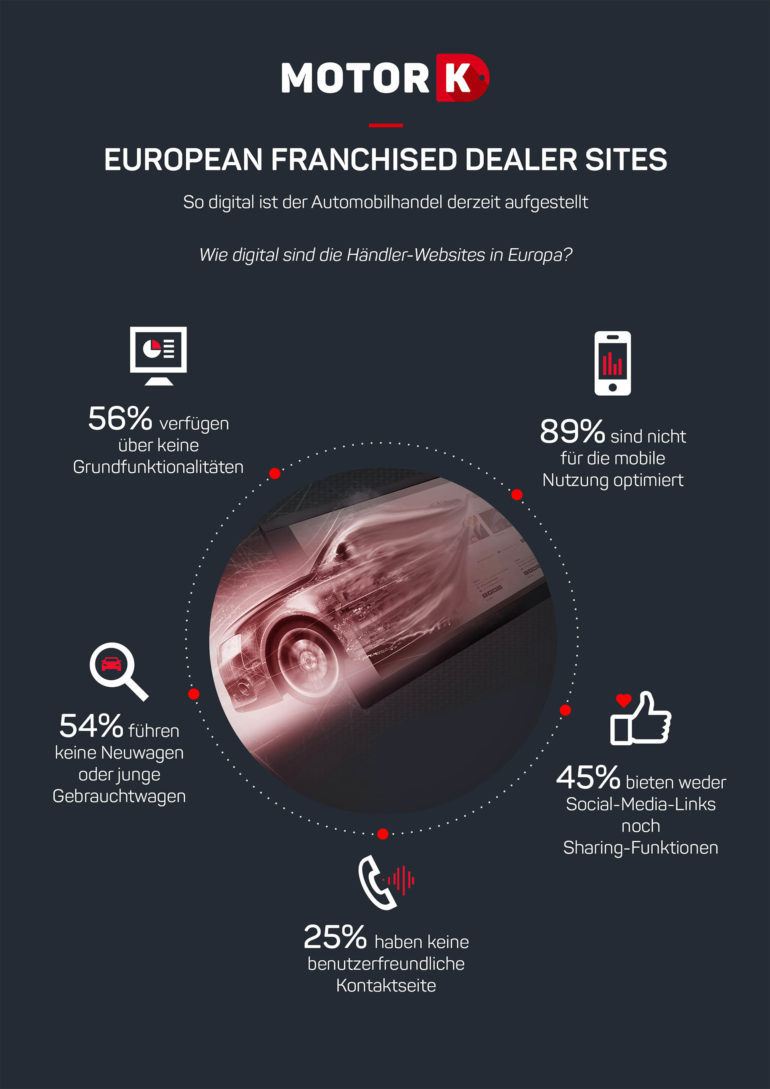 Study by MotorK reveals lack of modern features and tools
Nowadays many processes are almost always carried out online. But the "customer experience" on the websites of European car dealers is far from being fully developed. A study by MotorK now shows that around one in two European car dealers is not well positioned with their website. Within the study "European Franchised Dealer Sites: The State of Digital Retail Presence", 36 car brands were examined in the five most important markets Germany, France, Italy, Spain and UK. More than 20 categories per page were analysed.
According to MotorK, the Europe-wide specialist for digital marketing and sales solutions in the automotive industry, all important basic functions are available, but there is a lack of modern features and tools. Above all, tools for financial calculation, credit simulation or vehicle evaluation are lacking (86 percent). The study shows that car brands hardly differ from each other in the poor quality of their websites. In fact, no dealer website of any brand can achieve even an almost perfect score.
"Dealer websites are an important and often ignored part of today's customer journey. While the main brand sites attract the most attention, buyers in all segments are heavily reliant on dealers' websites during their discovery process," said Brian Coleman, Chief Strategy Officer, MotorK. He relies on Google's analysis that about 50 percent of all car buyers have found their dealer through his own website.
What are the main problems with car dealer websites?
Although many things can now be done on smartphones, around 56 percent of European dealers' websites are not optimised for mobile use ("responsive design"). According to MotorK, 86 percent of those interested in buying a car will start their vehicle search from a mobile device in three years' time.
Furthermore, just four percent of the websites offer a live chat function and every fourth company has no user-friendly contact page. 22 percent lack the possibility to fill out an inquiry form for a test drive and many websites have problems with loading speed or search engine optimization (SEO).
MotorK has divided the key elements to provide potential car buyers with a satisfying shopping experience into three major categories of the Customer Journey: "Awareness" (how well the website is optimised, how it behaves from a technical point of view and whether it matches the corporate identity of the parent brand), "Research" (availability of features and tools that help to learn more about the vehicles, search for promotions and availability) and "Engagement" (contacting dealers, searching for the location, communication tools such as click-to-call, live chat and social media). Interested car dealers can request the whitepaper on the study from Industrie-Contact, the MotorK press office in Germany, at motorK@industrie-contact.com.
IC took over the PR work for the Italian company MotorK in Germany in mid-September 2018.
---
About MotorK
MotorK is a software company that offers in-cloud solutions for automotive manufacturers, dealers and end customers. The company was founded in Italy in 2010 by three entrepreneurs who still manage the company today. The company currently has 330 employees with subsidiaries in the UK, France, Spain and Germany. MotorK offers a portfolio of integrated digital products and services that help car dealers and sales teams address the challenges and opportunities of the digital economy. MotorK develops and sells three products: DriveK (developed for OEMs), DealerK (developed for car dealers) and Internet Motors (digital automotive training and events).